The Organizing Committee of CASTAD - the Canadian Spanish Teaching Assistant Dialogues - is proud to announce the Call for Papers for its 2021 meeting, to be held remotely on Friday, March 12, 2021.
Convocatoria
CASTAD es un espacio fundado en 2017 para el encuentro de estudiantes graduados que se desempeñan como asistentes de enseñanza y/o instructores de español como lengua extranjera (E/LE), en universidades canadienses. Con esta iniciativa, se pretende fortalecer la formación pedagógica y profesional a través de la resolución de inquietudes y el intercambio de experiencias de enseñanza.
Invitamos a los interesados a enviar sus propuestas para ponencias de 15 minutos a castadconvocatoria @ gmail.com antes del 1 de marzo de 2021.
Las propuestas no deben exceder las 200 palabras y deben incluir nombre completo y afiliación institucional.
Temas sugeridos:
El uso del aprendizaje activo en el formato en línea.
La incorporación de las artes en la clase de E/LE.
La aplicación de nuevas teconologías y redes sociales para la enseñanza virtual.
La evaluación formativa de competencia lingüística-comunicativa en el aula virtual.
La integración de las culturas hispanas en el aula de E/LE.
Estrategias para mantener la motivación estudiantil durante la enseñanza en línea.
La inclusión y cuestiones de diversidad en el salón virtual.
El Comité Organizador está formado por miembros del
Departamento de Lenguas y Culturas,
Western University
Departamento de Español y Portugués,
University of Toronto
Ana García-Allén, Co-fundador
Juan Carlos Rocha Osornio, Co-fundador
Hanna Barnett, Voluntario
Nayid Contreras, Voluntario
Martha Black, Voluntario
Mariya Dzhyoyeva, Voluntario
Yudith Rojas, Voluntario
Daniela Maldonado, Voluntario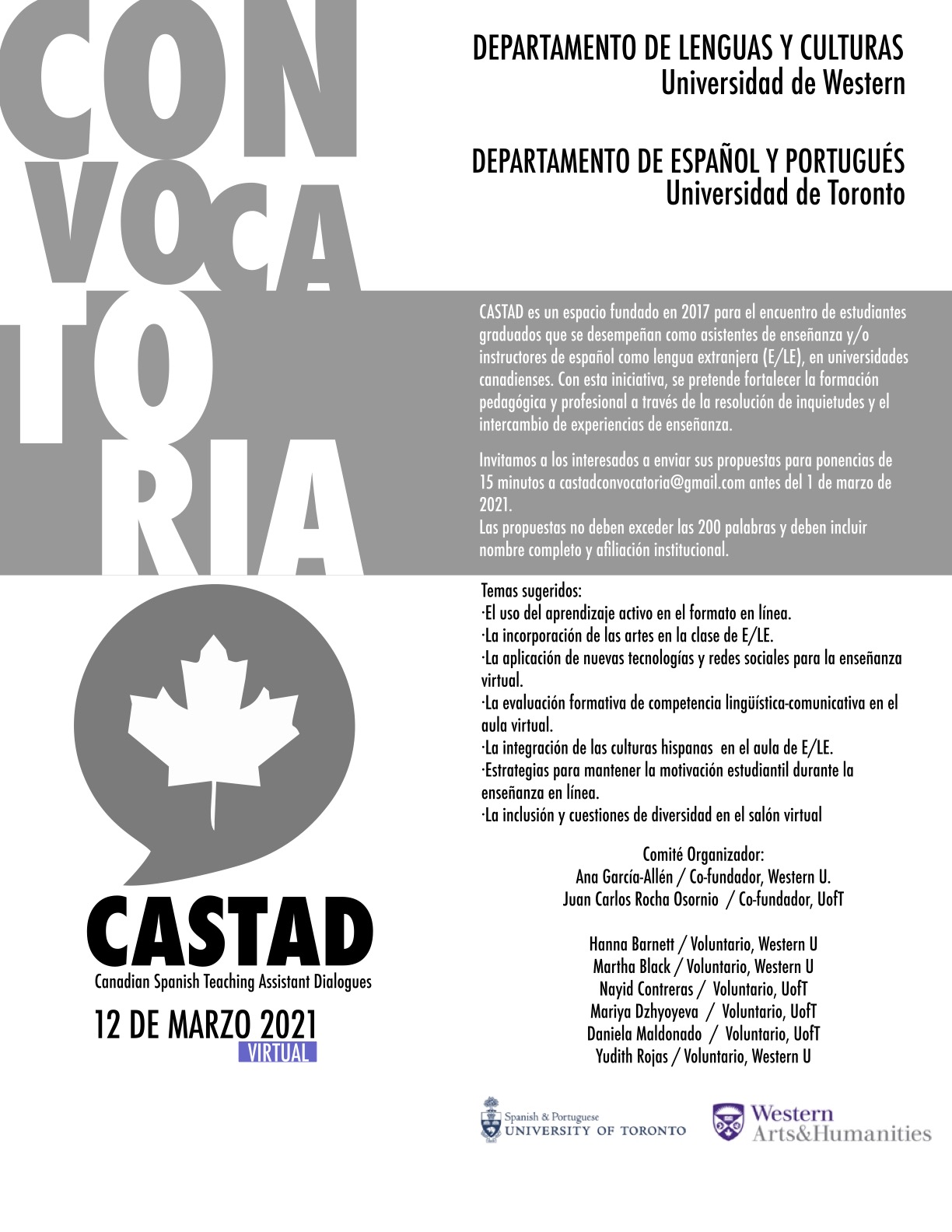 Categories