We are proud to announce that Daniela Maldonado Castañeda has been awarded a Vanier Canada Graduate Scholarship (Vanier CGS) starting on September 2020.
Her research project, supervised by Professor Jill Ross, is titled "Uncovering Promises in Medieval Spain and Beyond: Why do words matter?" In it, Maldonado analyzes the ethics, rhetoric, and politics of promises in selected texts written in Latin, Castilian, Arabic and Hebrew in Medieval Iberia.
The seeds of this project were planted many years ago: after completing a Bachelor's degree on literature at the Universidad de los Andes, in Colombia, Maldonado began her career as a cultural promoter. Her job took her to communities in new suburban developments in the outskirts of Bogota. She worked closely with those living in situations of extreme poverty, displaced by armed conflict or forced to move from communities hit by natural disasters. She noticed people's mistrust of the government: in the most immediate terms, although it was a government program that gave them the houses they lived in, they lacked many other basic services promised to them as they tried to make a new life in the city. In the larger national context of war, their mistrust would arise from the many suspensions of peace treaties. These agreements between government and the guerrilla groups, considered promises, would be negotiated time and time again and then broken by either party.
After dedicating four years to travel and community work in Colombia and India, she decided to migrate to Canada to continue her studies in graduate school. Immersed once again in the delights of medieval literature, she noticed that some literary, legal and rhetoric texts showed a sense of anxiety about how to properly word a promise, how to ensure it is fulfilled, and what to do in case it is broken. Maldonado's aim is to analyze what does it mean to make a promise, to "give your word", to ask someone to trust you, both in medieval texts and within medieval Iberian society. The notion of the promise is further complicated because medieval Iberia was a cross-cultural society, which is why Maldonado looks concurrently at texts written in the main languages of the era. Even though her research focuses in the honour agreements made many centuries ago, her ambition is to illuminate the contemporary processes of construction of public trust - such as political campaigns, truth and reconciliation commissions, and peace treaties.
Join us as we congratulate Daniela Maldonado, the new Vanier Scholar in our Department!
About the Vanier Canada Graduate Scholarship
Named after Major-General Georges P. Vanier, the first francophone Governor General of Canada, the Vanier Canada Graduate Scholarship program supports highly qualified doctoral students who demonstrate leadership skills and a high standard of scholarly achievement in graduate studies. Up to 166 scholarships are awarded annually, and these are distributed equally between the three federal granting agencies that oversee research in the social sciences and humanities (SSHRC), natural sciences and/or engineering (NSERC) and health (CIHR).
For more info about this scholarship, please visit the Vanier Canada Graduate Scholarship website.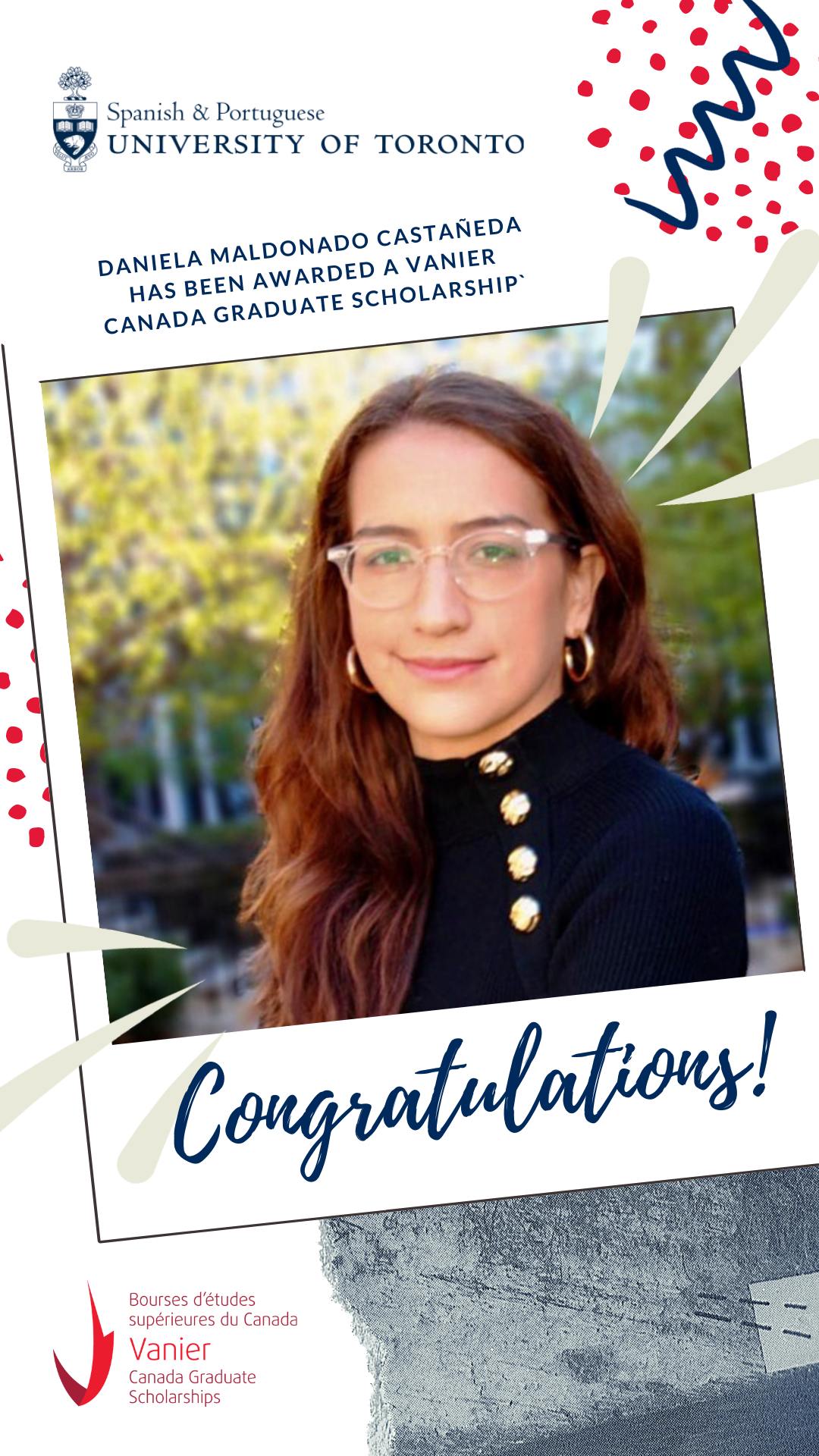 Categories
Tags