On March 4, 2021, students in PRT219Y1 – Academic Portuguese – hosted a remote visit from participants in the Aula Cultural of the West Neighbourhood House (WNH) in Toronto. Prof. Luciana Graça, Visiting Lecturer from the Camões Institute and instructor of this course, co-organized the meeting with support from WNH and Prof. Anabela Rato, Associate Chair of Portuguese Studies.
Prof. Rato, who also volunteers with West Neighbourhood House, explained: "Aula Cultural is a space for older Portuguese adults, many of them first-generation immigrants to Canada, to meet for cultural activities. These sessions are full of popular music and poetry, and fond memories of their lived experiences: it is a pleasure and an honor for me to help lead the meetings." Since the Aula Cultural sessions are all being held online due to the current public health restrictions, professors Graça and Rato thought it would be a great idea to bring students and seniors together for some intergenerational learning about popular idiomatic expressions in Portuguese. This was the first time such a meeting has been held.
During the session, students asked the members of Aula Cultural to explain the use of some colloquial phrases. Joyce da Silva, a student in the PRT219Y1 course, commented: "I enjoyed seeing them light up and laugh a little when they would hear one of the idiomatic expressions we asked them to explain to us." Anna Simeone, another student in the course, added:
They took turns explaining Portuguese expressions, and it was a nice reminder that no matter how much grammar I learn, colloquial language is just as important to understand, especially if I want to work in a Portuguese-speaking country someday.
Prof. Graça highlighted that: "In addition to the learning itself built on the idiomatic expressions, students were able to access what are very spontaneous exchanges among native speakers of the Portuguese language, with the most varied interjections, with different accents." For the senior themselves, Prof. Rato mentioned, it was a treat to talk to university students and teach them about Portuguese culture: their excitement was evident during the session.
Shanya Ng, a student in PRT219Y1 present in the meeting, welcomed the change of pace brought by the Aula Cultural to the classroom: "The meeting was absolutely lovely! It genuinely brought such a smile to my face and I loved meeting the seniors from WNH. Everyone was so enthusiastic and there were lots of laughs." Anna agrees: "The meeting was so much fun—the seniors from WNH were so full of energy, to the point where I felt like I was getting a much-needed energy boost just by listening to them."
Joyce added that the session was "a beautiful moment of cultural exchange and learning, a wonderful moment to just socialize, laugh and enjoy ourselves with members of the community we might not have otherwise had the opportunity to meet." Anna also chimed in:
I think it's easy to get lost in your own world as a student, always worrying about deadlines and exams, and so I really appreciated the break in routine that this meeting provided. […] School can feel isolating at times, especially around exam season, and so sessions like these with people who aren't in your everyday circle of contacts of professors and students offer a healthy change in perspective.
Joyce reflected further on the meeting with Aula Cultural: "I believe that our elders are sacred and have knowledge to share that we can all benefit from learning. The way the pandemic has had such a devastating effect on our senior population has really made us want to hold them just that much closer."
Shanya agreed with the sentiment and mentioned that she tested out some of the riddles learned in this meeting on her Mozambican grandmother. She was able to solve them, after an initial very close guess. Shanya said: "She thought they were clever, and it was a nice moment of laughter between us. She later commented that she liked trying to solve the riddles I had shared because "- It is good to exercise the brain". I told her I got them from our Portuguese class with the WNH seniors and she shared that she thought it was such a lovely activity."
Here are some of the expressions discussed in the meeting: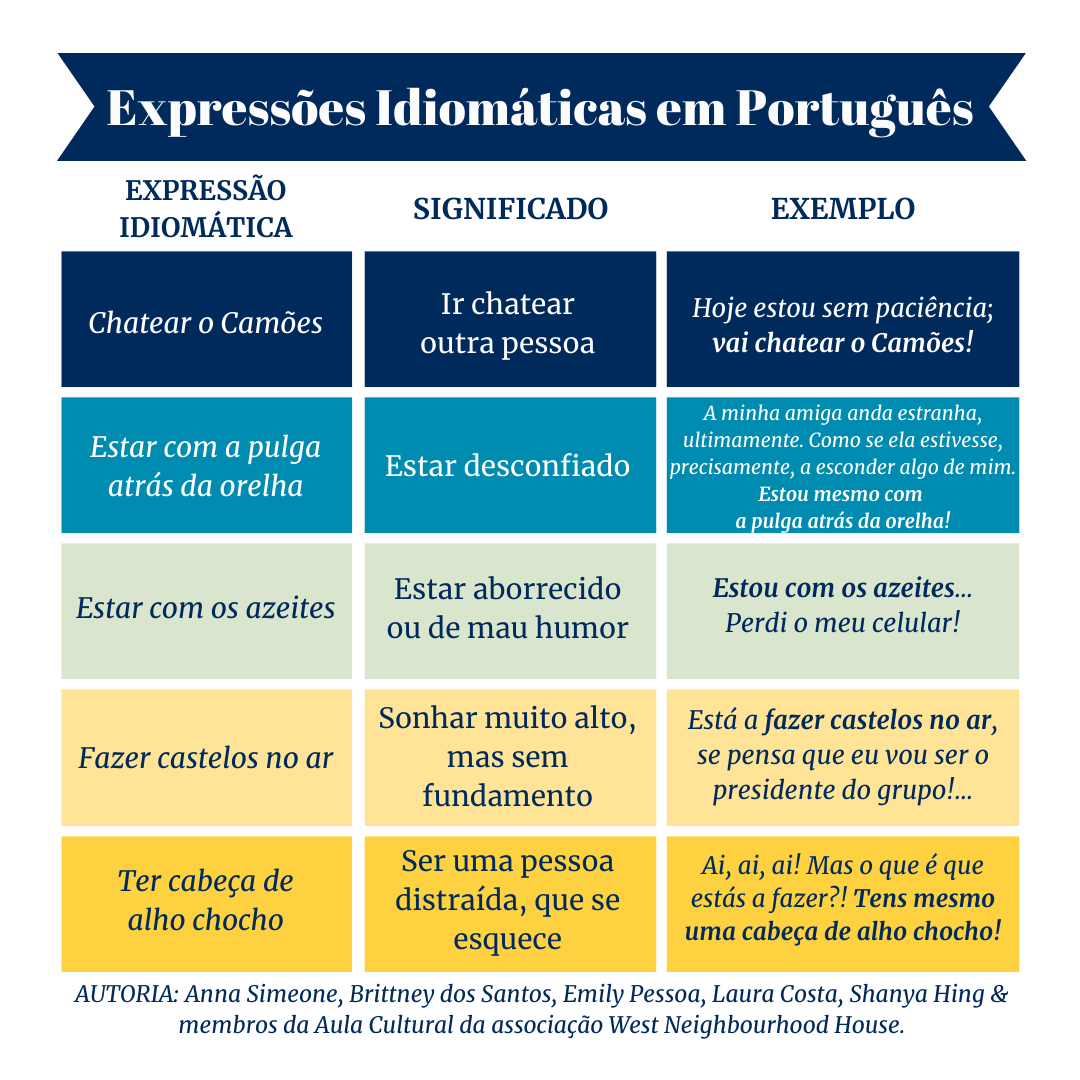 Categories